Actualités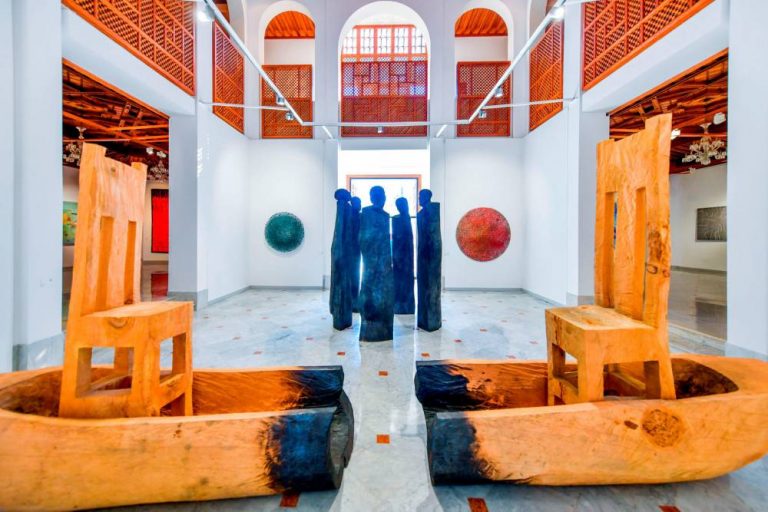 « Prête-moi ton rêve » d'artiste africain : exposer dans six capitales du continent
juin 2019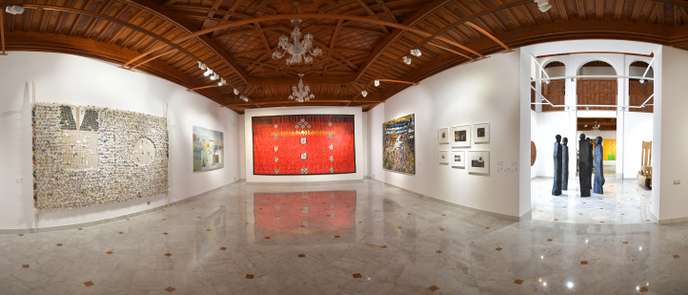 « Prête-moi ton rêve », le pari d'une exposition itinérante panafricaine
juin 2019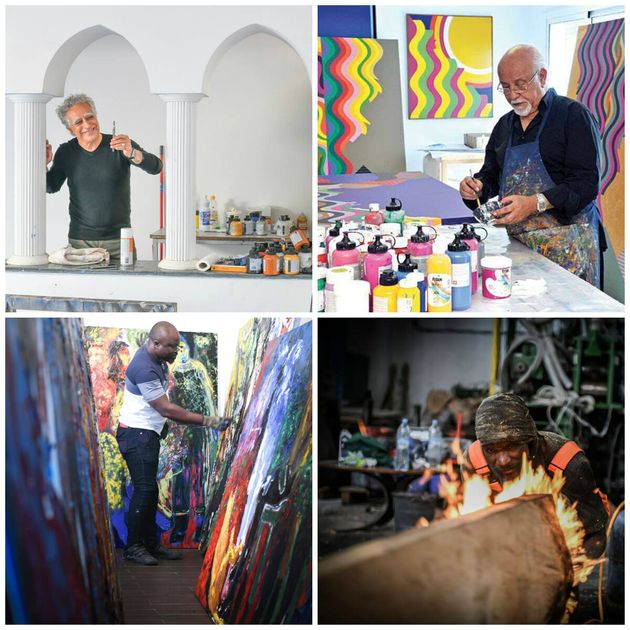 « Prête-moi Ton Rêve », quand l'art contemporain africain s'offre une tournée continentale
juin 2019
Biographie
Né en 1967 à M'Balmayo, une ville du Cameroun proche de Yaoundé, Barthélémy Toguo suit d'abord les cours de l'Ecole des Beaux-Arts d'Abidjan, en Côte d'Ivoire. Il y découvre la sculpture, un art qu'il décide d'approfondir en France, à l'Ecole supérieure d'art de Grenoble. Parachevant ses études à Kunstakademie de Düsseldorf, il diversifie ses moyens d'expression, s'illustrant aussi bien en tant que sculpteur, photographe, vidéaste que peintre.
Dans ce dernier domaine, c'est en 1998 qu'il se tourne vers l'aquarelle dont il est aujourd'hui reconnu comme un maître. En parallèle, il réalise de nombreuses installations et performances.
Maniant l'humour et la provocation, cet artiste singulier propose une œuvre politiquement engagée.
Travaillant sur plusieurs supports, Barthélemy Toguo sonde dans une perpétuelle fusion avec son oeuvre, les méandres de la relation au monde et à l'Autre à travers des thèmes aussi divers que l'identité, la conscience civique et politique, l'exil ou encore la sexualité.
En 1999, soucieux de la place de l'art en Afrique noire, il crée au nord de Douala l'Institute of Visual Arts à Bandjoun, qui devient la première structure artistique du Cameroun.
En 2004, l'importance de l'œuvre de Barthélémy Toguo est reconnue par une exposition personnelle – The sick opera – qui se tient à Paris, au Palais de Tokyo.
Collections
Tate Modern — Londres (Royaume-Uni)
Barbier-Muller — Genève (Suisse)
Centre Georges Pompidou — Paris (France)
Musée national d'Art moderne — Paris (France)
The Dakis Joannou collection — Athènes (Grèce)
Burger collection Hing Kong — Zurich (Suisse)
Collection Agnès B. — Paris (France)
Musée d'art contemporain — Lyon (France)
Museum of Contemporary Art — Miami (Etats-Unis)
Fonds national d'art contemporain — Paris (France)
Kunstsamlungen der Stadt — Düsseldorf (Allemagne)
MAC/VAL musée d'art contemporain du Val-de-Marne, Vitry Musée de l'Immigration — Paris (France)
Musée d'Art et d'Histoire du Judaisme — Paris (France)
Frac Haute Normandie — Sotteville-les-Rouen (France)
Collection Antoine De Galbert, Maison Rouge — Paris (France)
Studio museum de Harlem — New York (Etats-Unis)
Frac Corse — Corte/Corse (France)
The Museum of Modern Art — New York (Etats-Unis)
Musée national d'art moderne de la Palestine
Musée d'art contemporain — Strasbourg (France)
Fondation Louis Vuitton — Paris (France)
E.S. Stella Matutina de Shyorongi — Kigali (Rwanda)
Principales Expositions individuelles
2019
Urban Requiem, Galerie Lelong — New York (Etats-Unis)
2018
The beauty of our voice, Parrish Art Museum — New York (Etats-Unis)
Heimatlos, Nosbaum Reding — (Luxembourg)
 2017
Fragile Body, Hadrien De Montferrand Gallery — Pékin (Chine)
Strange fruit, Galerie Lelong & Co — Paris (France)
2016
Déluge, Le Carré Sainte-Anne — Montpellier (France)
Strange Fruit, Stevenson — Johannesburg (Afrique du sud)
2015
Les diables et les dieux, Château de Tanlay — (France)
Maison des Arts — Châtillon (France)
Château Lynch-Bages — Pauillac (France)
Water Dance, WOMAD — Charlton Park (Royaume-Uni)
2014
Here Africa, Château de Penthes — Pregny (Suisse)
The house of secrets, La Chaufferie, HEAR — Strasbourg (France)
An Afropolitan View, Uppsala Art Museum — Upssala (Suède)
Musée d'Art et d'Histoire —  Narbonne (France)
Solo show — Le Cap (Afrique du Sud)
MAM Mario Mauroner – Contemporay Art Viennes — (Autriche)
Michael Stevenson Gallery — (Afrique du Sud)
Nousbaum Reding Gallery — (Luxembourg)
2013
BARTHÉLÉMY TOGUO: coexistence on earth, Wooson, Gallery — Daegu (Corée du Sud)
Talking to the Moon, Musée d'art moderne — Saint-Etienne (France)
Hidden Faces, Galerie Lelong — Paris (France)
Print Schock, Musée du Dessin et de l'Estampe Originale de Gravelines — (France)
Dérives — Marseille (France)
Cathédrale Sainte Anne — Arles (France)
Specific Creation Woosong Gallery, Bonsandong, Jung-gu — Daegu (Corée du Sud)
Signs in The Leaves, Médiathèque Benjamin Rabier — La Roche Sur Yon (France)
2012
A World Child Looking At The Landscape New Works, Nosbaum & Reding Art Contemporain — (Luxembourg)
2011
New Ceramics, Manufacture Nationale de Sèvres — Paris (France)
Specific creation Criminal Tribunal By Mario Mauroner contemporary Art — Vienne (Autriche)
International Print Biennale 2011, Print Awards, Who is the true terrorist Hatton Gallery, Claremont Road — Newcastle (Royaume-Uni)
Specific creation, The Well Water New Performance, shower life La Verrière by Hermès — Bruxelles (Belgique)
J'ai deux amours, Cité nationale de l'histoire de l'immigration — Paris (France)
Museum and Art Gallery, Skidmore College — (États-Unis)
The Unhomely, Biennal Of Contemporary Art — Séville (Espagne)
2010
Guo Wei/Barthelemy Toguo, Hadrien de Montferrand Gallery — Pékin (Chine)
The Lost Dogs, Orchestra – Galerie Lelong — Paris (France)
Devils head, salon du dessin contemporain, Hadrien de Montferrand Gallery — Pékin (Chine)
Cissé / Toguo, Dak'Art — Dakar (Sénégal)
Biennale de Dakar, Institut Français — Dakar (Sénégal)
Rencontre de Bamako – Foto Museum Anvers, Johannesburg Art Gallery — Le Cap (Afrique du Sud)
National Gallery, and Centre culturel Franco-Mozambicain — Maputo (Mozambique)
The World Examination – Centre d'Art Contemporain — Châtellerault (France)
Liberty Leading the People – Fundaçao Gulbenkian — Lisbonne (Portugal)
Barthélémy Toguo / Pascal Pinaud, Workshop and performance, Villa Arson — Nice (France)
Museum of Bandjoun — (Cameroun)
Galerie de la ville de Poitiers — (France)
Centre Culturel Français — Pointe Noire (Congo)
The World Examination – Item Editions — Paris (France)
2009
The Pregnant Mountain, Robert Miller Gallery — New York (Etats-Unis)
Road for exile, Carpe Diem Arte e Pesquisa, Palace of Marquis Pombal — Lisbonne (Portugal)
… et la parole fut, Frac île de la Reunion — Saint-Denis (France)
The world examination, Item Editions — Paris (France)
The aids issue cannot be solved thanks to the distribution of condoms -Benedict XVI- Mario Mauroner Contemporary, Art Vienna — Vienne (Autriche)
2008
Heart Beat – Baltic, Centre for Contemporary Art — Newcastle (Royaume-Uni)
Spiritual Genocide – Art Brussels — Bruxelles (Belgique)
The Devilish Human Temptations – Mario Mauroner Contemporary Art — Vienne (Autriche)
2007
Purifications Arco 2007, Madrid, by Mario Mauroner contemporary Art Salzburg and Vienna — Vienne (Autriche)
2006
La Magie du Souffle, Frac Provence-Alpes-Côte d'Azur — Marseille (France)
The Wildcats' Dinner, Ateliers d'Artistes de la Ville de Marseille — (France)
The Wildcats' Dinner, Mario Marauner Contemporary Art — Salzburg (Autriche)
2005
The Human Mirror, Ecole supérieure d'Art — Lorient (France)
2004
The Sick Opera, Palais de Tokyo — Paris (France)
Swallowing the World/Avalez le monde, Aliceday — Bruxelles (Belgique)
La guerre des sexes n'aura pas lieu, Ecole des Beaux Arts — Valence (France)
2003
Pure and Clean, Institute of Visual Art Milwaukee — Wisconsin (Etats-Unis)
2002
Puk, Puk, Puk, CCC, Tours (France)
Emergency Exit, le Lieu Unique — Nantes (France)
Epidémies, Goethe Institut — Yaoundé (Cameroun)
2001
Das Bett, école régionale des Beaux-Arts — Dunkerque (France)
Art Unlimited, Art Basel — Bâle (Suisse)
Barthélémy Toguo, The Box Associati Gallery — Turin (Italie)
2000
Virgin Forest, La Criée centre d'Art contemporain — Rennes (France)
Pénicilline, Centre Culturel Français — Turin (Italie)
1999
Baptism, Kunstmuseum Düsseldorf in der Tonhalle — Düsseldorf (Allemagne)
Migrateurs, ARC, musée d'Art moderne de la Vill— Paris (France)
Barthélémy Toguo, chez François Barnoud — Dijon (France)
1998
Parasites, centre d'Arts plastiques — Saint-Fons (France)
1996
Barthélémy Toguo, Goethe Institut — Yaoundé (Cameroun)
1994
Pôle européen, Saint-Martin d'Hères — Grenoble (France)
The Pregnant Mountain, Robert Miller Gallery — New York (Etats-Unis)
Road for exile, Carpe Diem Arte e Pesquisa, Palace of Marquis de Pombal — Lisbonne (Portugal)
… et la parole fut, Frac — île de la Réunion (France)
The world examination, Item Édition — Paris (France)