Exhibitions
L'étoffe des songes
Du 16 mars au 17 avril 2017
38 Contemporary Casablanca
Publications
L'Étoffe des songes
Younes Afsahi, Mohamed Chaoui El Faiz, Armelle Dakouo
La Galerie 38 & Fondation CDG
Français
103 pages
28,5 x 24,5 cm
Mars 2017
Download the catalog
Videos
HuffPost Maroc : Rencontre avec l'artiste malien Abdoulaye Konaté
March 2017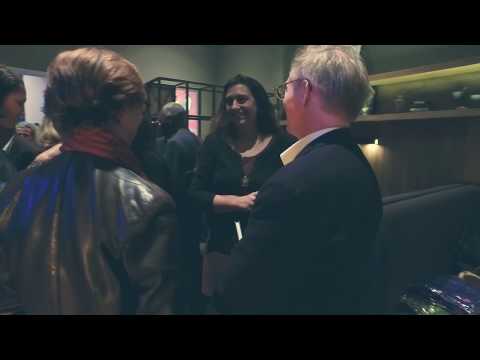 Vernissage de l'exposition d'Abdoulaye Konaté @ La Galerie 38
March 2017
Exposition "L'Etoffe des Songes" d'Abdoulaye Konaté, artiste plasticien malien, figure majeure de la scène artistique contemporaine, du 16 mars au 17 avril 2017.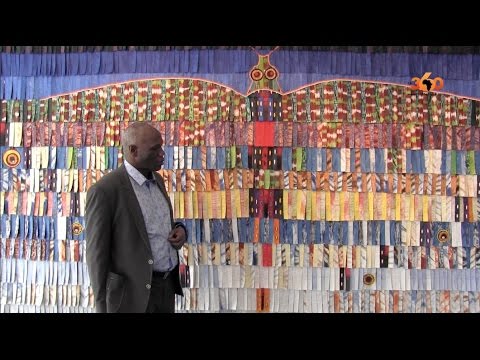 Interview le360.ma : Abdoulaye Konaté
March 2017
News
« Prête-moi ton rêve » d'artiste africain : exposer dans six capitales du continent
June 2019
« Prête-moi ton rêve », le pari d'une exposition itinérante panafricaine
June 2019
"Prête-moi Ton Rêve", quand l'art contemporain africain s'offre une tournée continentale
June 2019
Le Musée des Civilisations Noires voit le jour
December 2018
Prête-moi ton rêve, l'expo engagée
November 2018
Moulay Ismail rassemble le gratin de l'art contemporain africain pour une exposition
September 2018
Artists and African Textiles – the Use and Meaning of Textiles in Contemporary African Art
September 2018
Marché de l'art : le classement des artistes africains les mieux cotés
April 2018
Lancement d'un fonds africain pour la culture : Une belle initiative pour les artistes africains
December 2017
Le Malien Abdoulaye Konaté : 57e Biennale de Venise
August 2017
Biography
1953, Born in Diré, Mali
Lives and works in Bamako, Mali
Abdoulaye Konate's work, rooted in the context of Mali, combines abstraction and figuration, the real and the fantastic, tradition and modernity. Trained in Bamako (1972-1976) and Havana (1978-1985), where he met Wifredo Lam, Konate started with paintings and installations in the early nineties. His first works already carried his long-lasting interest in political and spiritual topics. His imagery conveyed an engaged type of surrealism inherited from Lam, which still fuels his visual world. The life-long quest of the artist is color he endlessly experiments. Within his works, color also operates as a tool for mapping, as each dye comes from a different region of the country and waves its own symbols. Beyond the regional color map, color is also an art of memory, weaving time and space together. In the mid-nineties, Konate started using fabric, one of the most accessible materials in Mali, which enabled him to involve both male textile workers and female dyers. Technically, fabric forces the artist to work on the ground and to experiment with scale, allowing an open dialogue with the wall. The stripes used as a constant motif in his fabrics refer to the traditional costumes of Senufo musi-cians. Konate's works are also particularly close to the Koredugaw, a secret society based on satire and laughter. Grotesque behaviors such as gluttony and wit are a way for them to purify society. Like them, the artist tries to challenge traditions and social conventions, being sometimes overtly critical in order to ultimately reconcile society. The etymology of Koredugaw also stresses their purifica-tion role, as "kore" means grand and "kori" refers to white cotton. The Koredugaw therefore relates to a color-and-material match which is crucial to read Konate's works. In his art, local traditions are therefore often swallowed and reformulated in an abstract-dominated space.
(in Viva Arte Viva, Venice Biennial 2017)
AWARDS
2018
Knight of the National Order of the Lion of Senegal, Senegal
2009
Officer of the National Order of Mali, Mali
2002
Knight of the National Order of Mali,
Knight of the Order of Arts and Letters of the French Republic
2008
Prix passeport – Créateurs sans Frontières, France
1996
Léopold Sédar Senghor Prize, Dak'Art Biennale, Dakar, Senegal
Universitaire de l'ISA de La Havane, Cuba
1985
First National Prize for painting in the Salon 13 de Marzo of the University of Havana on the occasion of the Cuban Culture Week
Marzo de l'Université de La Havane, Cuba
1982
Mention of the Conference of University Scientific Studies of the Higher Institute of Arts of Havana, Cuba
1976
Gold Painting Diploma, Local Artistic Week of Ségou, Mali
SOLO EXHIBITIONS
2017
L'étoffe des songes, La Galerie 38, Casablanca, Morocco
Espace Expressions CDG, Rabat, Morocco
2016
Abdoulaye Konaté, Arken Museum for Moderne Kunst, Copenhagen, Danemark
Symphonie en couleur, Blain|Southern, London, United Kingdom
Abdoulaye Konaté, Primae Noctis Art Gallery, Lugano, Switzerland
Aboulaye Konaté, Primo Marella Gallery, Milan, Italy
2015
Abdoulaye Konaté, Useful Dreams, Blain|Southern, Berlin, Germany
Abdoulaye Konaté, Primo Marella Gallery, Milan, Italy
2014
Le pouvoir du textile, galerie le Manège, Contemporary Art Biennal, Dakar, Sénégal
2013
Abdoulaye Konaté, The World in Textile, Afrika Museum, Berg en Dal, Netherlands
Abdoulaye Konaté, Primo Marella Gallery, Milan, Italy
2012
Abdoulaye Konaté, Tentures Teintures, Maison Revue Noire, Paris, France
Abdoulaye Konaté, Project Window, Iniva, Rivington Place, London, United Kingdom
Abdoulaye Konaté, ESADHar – L'Ecole Supérieure D'Art & Design, Le Havre, France
Abdoulaye Konaté, Festival sur le Niger Foundation, Ségou, Mali
2011
La toile d'Abdoulaye Konaté, National Gallery, Senegal
Galerie VIP, Marseille, France
2010
Abdoulaye Konaté – Exposition rétrospective, Contemporary Art Biennal, Dakar, Senegal
Pour l'exposition rétrospective, Prélude au festival des arts sur Niger, Ségou, Mali
2009
Abdoulaye Konaté, Le Temps de Danse, Galerie Saro Leon, Las Palmas, Canary Islands, Spain
Abdoulaye Konaté : Textile, Forum für Kunst, Heidelberg, Germany
2001
Chapelle Jeanne d'Arc, Thouars, France
1999
Abdoulaye Konaté – Tuchbilder + Installation, Dany Keller Galerie, Munich, Germany
1998
Galerie GO, Abidjan, Ivory Coast
1992
Abdoulaye Konaté, National Museum, Bamako, Mali
Abdoulaye Konaté,  IFAN Museum, Dakar, Sénégal
1990
Paysages et Masques II, Galerie Tatou, Bamako, Mali
1988
Galerie GO, Abidjan, Ivory Coast
1983
Abdoulaye Konaté, Le petit Salon, Havana, Cuba
1976
Abdoulayé Konaté, Maison du Peuple, Diré, Mali
GROUP SHOWS
2019
La construcción de lo possible, 13th Havana Biennial, Cuba
2018
African Civilizations: Continuous Creation of Humanity, Museum of Black Civilizations, Dakar, Sénégal
New Materialism, Bonniers Konsthall, Stockholm, Sweden
African Metropolis. An imaginary city, MAXXI, Rome, Italy
Ravelled Threads, Sean Kelly Gallery, New York, United States
Talisman in the Age of Difference, Stephen Friedman Gallery, London, United Kingdom
Pulling at Threads, Norval Foundation, SA Mobile Worlds or The Museum of our Transcultural Present, Museum für Kunst und Gewerbe Hambourg, Germany
The Liar's Cloth, Grimm Gallery, Amsterdam, Netherlands
2017
BACK TO BLACK: No On and Off Ramps, Art Africa Miami Fair, United States
The Summer Show 2017, Royal Academy of Arts (RA), London, United Kingdom
Viva Arte Viva, Venice Biennale, IT Afterwork, ILHAM Gallery, Kuala Lumpur, Malaysia
L'Afrique en capitale, Musée Mohammed VI d'Art moderne et contemporain, Rabat, Morocco
Metropolis Afrique Capitales, La Villette, Paris, France
2016
Afterwork, ILHAM Gallery, Kuala Lumpur, Malaysia
Still (the) Barbarians, EVA International, Ireland's Biennal, Limerick, Ireland
Group Show, 12 Solos, Blain|Southern, Berlin, Germany
Promenade à Bamako, Eiffage, Contemporary art Biennial, Dakar, Sénégal
2015
ART_TEXTILES, The Whitworth, The University of Manchester, Manchester, United Kingdom
19th Contemporary Art Festival Sesc_Videobrasil Southern Panoramas, São Paulo, Brazil
Streamlines : Metaphorical and Geopolitical Interpretations of the Oceans, Deichtorhallen International Kunst und Fotografie, Hamburg, Germany
Obsession, Maison Particulière, Brussels, Belgium
Katrine Helmersson and Abdoulaye Konaté, Norrköping Konstmuseum, Norrköping, Sweden
2013
The Divine Comedy : Heaven, Hell, Purgatory revisited by Contemporary African Artists, National Museum of African Art, Smithsonian Institute, Washington, United States
The Divine Comedy : Heaven, Hell, Purgatory revisited by Contemporary African Artists, Museum für Moderne Kunst, Francfort, Germany
Decorum, Musée d'Art Moderne de la Ville de Paris, Paris, France
International Sculpture Route Amsterdam Art Zuid 2013, Amsterdam, Netherlands
Marker 2013, Madinat Jumeirah, Dubai, Emirates
Métamorphoses, Musée Bargoin, Clermont-Ferrand, France
2012
Hollandaise, SMBA, Stedelijk Museum Amsterdam, Netherlands
We face forward : Art from West Africa today, Whitworth Art Gallery, The University of Manchester, United Kingdom
RAW Material Company, Centre pour l'Art, le Savoir et la Société, Dakar, Sénégal
2011
Dégagements… La Tunisie un an après, Institut du Monde Arabe, Paris, France
Mixités : Daouda N'Diaye, Abdoulaye Konaté, Nestor Da, Aimé Mpane, Romuald Hazoume, Ndary Lo – Les chantiers de la Lune, La Seyne sur mer, France
Fondation Festival sur le Niger, Ségou, Mali
2010
Primo Marella Gallery, Milan, Italy
Foire de Bâle, Basel, Switzerland
Festival des Arts nègres, Dakar, Sénégal
L'Art actuel d'Afrique, Collégiale Saint-André, Chartres, France
Textiles ou Fragment de l'Histoire d'une Collection, Jean-Paul Blachère Foundation, Apt, France
2009
Africa ? Una Nuova Storia. Complesso del Vittoriano, Rome, Italy
Havana Biennial, Cuba
2008
Artes Mundi, National Museum, Cardiff, United Kingdom
INPUT, Colecção Sindika Dokolo – Museu Nacional de História Natural, Luanda, Angola
Travesía, Centro Atlántico de Arte Moderno (CAAM), Las Palmas, Canary Islands, Spain
7th Gwangju Biennale, Gwangju, South Korea
Angaza Afrika – African Art Now, October Gallery, Londres, United Kingdom
Afrique : Miroir ? Biennale d'Art contemporain, Dakar, Senegal
Grey Art Gallery New York, New York University, United States
Brussels Biennial, Belgium
2007
Three Questions for Art and Its Audience, Documenta 12, Documenta – Kassel, Germany
Brocken Memory, Ghana National Art Museum, Accra, Ghana
Contact Zone, National Museum, Bamako, Mali
Africa Remix, Contemporary art of a continent :
– Museum Kunstpalast, Dusseldorf, Germany
– Centre Georges Pompidou, Paris, France
– Hayward Gallery, London, United Kingdom
– Mori Art Museum, Tokyo, Japon
– Johannesburg Art Gallery, South Africa
2006
Unhomely : Phantom Scenes in Global Society,Contemporary art Biennial, Seville, Spain
Angola Pop, Luanda Triennial, Angola
Afrique : Entendus, Sous-entendus et malentendus, Contemporary Art Biennial, Dakar, Sénégal
Chambre Malienne, Fondation Jean-Paul Blachère, Apt, France
2003
Musée du design et des arts appliqués contemporains de Lausanne, Switzerland
Palais des Beaux-arts, Brussels, Belgium
Maison des Arts, Paris, France
2002
Musée de Picardie, Amiens, France
2001
Abdoulaye Konate, Amahiguere Dolo et Ismaël Diabate, Grand Théâtre d'Angers, France
1998
Routes of Passage, Johannesburg Biennale, Johannesburg, South Africa
24th Biennale de São Paulo, Brazil
7th Triennale der Kleinplastik, Stuttgart, Germany
1997
Die Anderen Modernen, Haus der Kulturen der Welt, Berlin, Germany
Modernities and Memories, Biennale de Venise, Venice, Italy
1996
The Other Journey, Kunst Halle, Krems, Austria
1995
Rencontres Africaines, Caixa General de Deposito, Lisbon, Portugal
African art of our time : an inside story, Setagaya Museum, Tokyo, Japan
Otro Pais, Palais de la Vireina, Barcelona, Spain
1994
Rencontres Africaines, Institut du Monde Arabe, Paris, France
Otro Pais, Centre Atlantique d'Art Moderne, Las Palmas, Canary Islands, Espagne
1992
Contemporary Art Biennial, Dakar, Senegal
1991
Regards Croisés, National Museum, Bamako, Mali
Siège World Bank, World Bank, Washington, United States
Association pour la Diffusion de l'Art Plastique Africain Contemporain (A.D.A.P.A.C.) Paris, France
Tsurumoto Room Co, LTD Shibuyo, Shibuyo KuTokyo, Japan
1990
ADEIAO, Musée National des Arts d'Afrique et d'Océanie, Paris, France
1986
Havana Biennial, Havana, Cuba
Artistes Maliens et Soviétiques au Palais de la Culture, Palais de la Culture, Bamako, Mali
1984
Havana Biennial, Havana, Cuba
1983
Salon 13 de Marzo, Galerie Oriente, Santiago de Cuba, Cuba
8ème Biennale Artistique et Culturelle du Mali, Palais de la Culture, Bamako, Mali
1978
Jeunes Peintres du Mali, Institut National des Arts, Bamako, Mali
PUBLIC COLLECTIONS 
Banque des États de l'Afrique Occidentale, Dakar, Sénégal
Dak'Art, Contemporary Art Biennial, Sénégal
Musée d'Art Contemporain Africain Al Maaden, MACAAL, Marrakech, Morocco
Foundation Blachère, Apt, France
Fondation Guy & Myriam Ullens, Geneva, Switzerland
Fundação Sindika Dokolo, Angola
Gare do Oriente, Lisbon, Portugal
Metropolitan Museum of Art, New York, United States
National Museum, Bamako, Mali
Musée Bargoin de la Ville de Clermont-Ferrand, France
Palais Présidentiel du Mali, Bamako, Mali
Smithsonian Museum, Washington, United States
Stedelijk Museum Amsterdam, Netherlands
Vehbi Koc Foundation, Istanbul, Turkey
Sigg Collection, Schloss, Switzerland